Welcome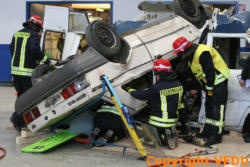 The 2009 World Rescue Challenge will be hosted in Frankfurt a.M., Germany by the Frankfurt Fire and Rescue Service. Due to the extremely short lead in time, we unfortunately will only be able to hold the centre-piece events of the World Rescue Organisation.
These are:
The World Rescue Challenge
The World Trauma Challenge

The principal competitive event is the World Rescue Challenge whereby teams of fire-fighters and Rescuers demonstrate their rescue skills during a series of simulated road crashes. There will also be a further World Challenge when pairs of medical rescuers from around the world compete against each other in the World Trauma Challenge.

The Rescue Challenge will be staged outdoors and the Trauma Challenge will be staged indoors at the main fire station of the Fire and Rescue Service Frankfurt.
Feuerwehr- und Rettungsdienstakademie
Feuerwehrstrasse 1
60435 Frankfurt/M