Frankfurt am Main

Frankfurt am Main, the dynamic and international financial and trade fair city with the most imposing skyline in Germany. This is the image that many visitors associate with the Main metropolis. But the city in the heart of Germany and Europe can offer many other facets and contrasting variety. Near to the skyscrapers you can find cosy Ebbelwei pubs and at the heart of the bustling city centre you can find historical sights again and again. Frankfurt is not just proud of its most famous son, Johann Wolfgang von Goethe. The Kaiserdom (Cathedral) and the Paulskirche, the cradle of German democracy, are also to be found here. Interesting destinations for excursions in and around Frankfurt turn your stay into a great experience and you will love to come back.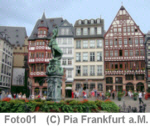 Frankfurt is striving higher: continental financial centre, European traffic hub. Yet the European city around the city hall on the Römerberg, with its restored timber-framed buildings, has remained a real doll's house. It sometimes likes to call itself 'the smallest metropolis in the world'. This is what many visitors to Frankfurt notice straightaway and they are often surprised at it: 'What a small town!' Frankfurt has just 660,000 inhabitants, a tenth of the population in Hesse. And it takes less than twenty minutes to go from the Westend to the Ostend (Ease End) – by foot.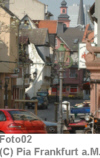 And if internationality is Frankfurt's motif, it is amazingly contemplative in the city districts here and there. At times here, the cosiness of rural life, with timber-framed buildings, narrow alleyways and traditional cider bars, prevails. In contrast, the most international and perhaps also most exciting district in Frankfurt is the station district. On an area of less than one square kilometre, more than one hundred nationalities live next to one another peacefully in some extremely grand Wilheminian-style houses. The passers-by on the pavements converse in all languages of the world, and Turkish, Italian, Indian, Chinese or Pakistani food is to be had on every corner. On warm days, tables and chairs are set up in the open in front of many cafes and restaurants.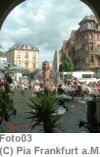 People simply like to eat well and live well in this city, in which international flair and homey cosiness are often just a few steps apart. Even people who are just briefly passing through feel this atmosphere, when a single glance from one of the Main bridges takes in both the ensemble of civic splendour on the Römerberg and the imposing skyline of modern high-rise architecture.

The Römer's silhouette is world-famous and unmistakably belongs to Frankfurt. The city's government has been located here since the 15th century, and it gave its name to the square.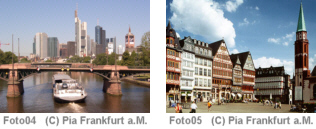 Quelle: http://www.frankfurt.de
Foto01: Römerberg mit Fachwerkzeile © PIA Stadt Frankfurt am Main, Michael Glowalla
Foto02: Sachsenhausen © PIA Stadt Frankfurt am Main, Rainer Rüffer
Foto03: In den Straßencafes an der Berger Straße kann man Frankfurts Gemütlichkeit genießen © PIA Stadt Frankfurt am Main, Rainer Rüffer
Foto04: Skyline mit Schiff © PIA Stadt Frankfurt am Main
Foto05: Römerberg © PIA Stadt Frankfurt am Main